No results have been found for your request.
GRID WALK Aurum 1006 km powered by Hankook
Palangos – Kretingos – Klaipėdos kelių sankirta
Didžiausias Rytų Europos auto sporto festivalis Aurum 1006 km powered by Hankook liepos 14-16 dienomis jau 23-ąjį kartą sugrįžta į Palangą!

Kaip ir kiekvieną vasarą, greitkelis Klaipėda - Palanga - Kretinga transformuosis į visame auto sporto pasaulyje pažįstamą lenktynių trasą, kurioje tikrai netrūks greičio ir azarto. Be pagrindinių 1006 kilometrų lenktynių, kaip ir kasmet žiūrovai turės galimybę išvysti ar net sudalyvauti daugelyje papildomų renginių:

Merginas ir moteris maloniai kviečiame išbandyti jėgas tradicija tapusiame "108km moterų iššūkyje" (registracija: https://racing.lt/lt/108km-moteru-issukis);

Itin vertinantiems greitį siūlome nepramiegoti "Drag" lenktynių!  https://racing.lt/lt/dragas;
Klasiką vertinantiems žiūrovams penas akims - "Istorinių automobilių paroda ir lenktynės";
Daug garso (o dažnai ir šviesų) pasiūlys tradicinės automobilių decibelų varžybos - "Db drag" https://racing.lt/lt/dbdrag;

Tuos, kurie stebėdami lenktynes negali nustygti savo vietoje, pakviesime išbandyti savo jėgas ar iškviestį draugus į dvikovą "Technitis žiūrovų slalome" https://racing.lt/lt/ziurovu-slalomas;

Kaip visada, festivalį vainikuos visą šeštadienį vyksiančios pagrindinės 1006 kilometrų lenktynės, po kurių įvyks festivalio uždarymo koncertas ir apdovanojimų ceremonija!

Festivalio teritorijoje turėsite progą apsilankyti ir įvairiose visai šeimai pritaikytose pramogų zonose.

Atvyk ir įsimylėk automobilių sportą.

Daugiau informacijos: https://racing.lt/lt/svarbi-info
GRID WALK
Kas tai yra: Tai unikali galimybė pasivaikščioti lenktynių trasa ir pajusti visą lenktynių jaudulį kartu su komandomis likus kelioms minutėms iki didžiojo 1006 km lenktynių starto.
Laikas: liepos 16 d. 11:00-11:30
Trukmė: 30 min
Numatomas žmonių skaičius: iki 300
GRIDWALK vieta: 10:50 prie įvažiavimo į trasą (tikslią vietą žiūrėti plane).
Daugiau informacijos apie renginį: www.racing.lt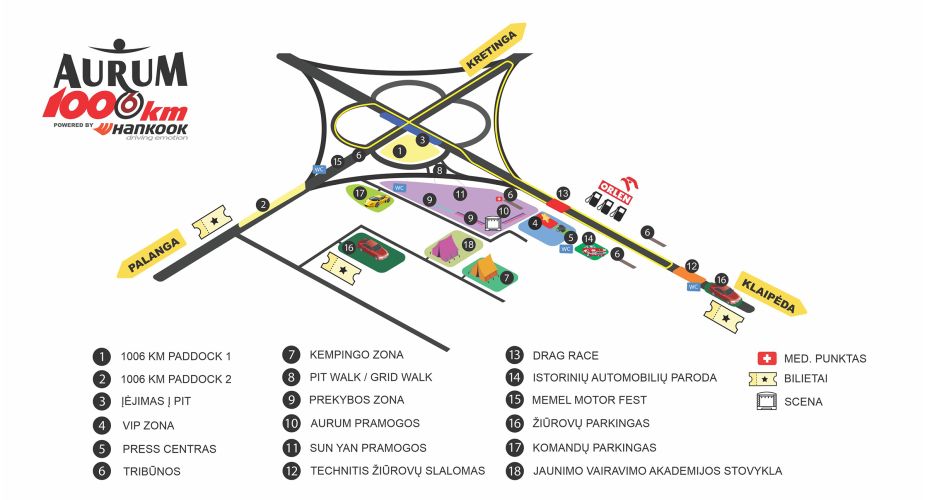 Show more
Show less
| Event | Date / Time | Venue | Price | |
| --- | --- | --- | --- | --- |
| GRID WALK Aurum 1006 km powered by Hankook | Sa 16/07/2022 11:00 | Palangos – Kretingos – Klaipėdos kelių sankirta | 20.00 | |